Chimney Sweeping & Maintanence Services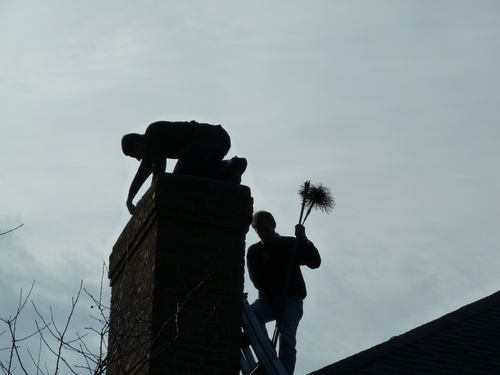 ****We are now offering spring / summer rates****
Chimney sweeps (includes inspection) in Stark County - $300 + Tax
Outside Stark County but still in service range - $350 + Tax
For Saturday appointments add $5
***Pricing may vary depending on the difficulty of the job***
Proud to use the Gold Standard for chimney inspection software

For prefabricated gas fireplaces and inserts (pre-fabricated fireplaces will usually have a fixed glass front - operated by a switch or remote) the cost for service ranges between $200-$250 plus tax inside Stark County and $250 - $300 outside Stark County. If there are parts needing to be replaced to make the fireplace operational, we can give you an estimate for the repairs at the time of service and can usually perform the repairs on the spot.
Inspections - Are you considering buying a new home or selling your current home? If so we would HIGHLY recommend you have us out for an inspection. Our inspections are thorough and include a professional inspection report as well as estimates for any repairs that are needing to be done. Don't assume that because you got a general home inspection, that the inspector will catch all issues with the chimney. We use high-tech cameras to inspect the hidden areas of your fireplace such as the smoke chamber and flue lining of your chimney and we state of the art software developed by Mr. Ferguson and his brother. It's a very common occurrence for people to move into a new home thinking they can burn, but before they have that first fire, they should have us out for an inspection just in case, only to find out that there are thousands of dollars worth of repairs that need to be made before they can use the fireplace. Many times these costs can be used to negotiate price or come out of closing costs if the inspection is done before the sale and you have an estimate for the repairs.
Chimney Sweeping - Don't underestimate the value of sweeping your chimney on a regular basis. You'd be surprised how much build-up happens in a regularly used fireplace. Keeping your chimney clean will help prevent a chimney fire, and make it last longer. Generally, a chimney needs to be swept after every cord of wood is burned.
You never know what we may find in your chimney. There are animals that commonly choose your chimney as their home such as raccoons and chimney swifts. There are other animals that end up in your chimney either seeking refuge from other animals or maybe they are just curious. Unfortunately, these animals usually cannot make it back out of your chimney and either need to be removed before they die, or we are called to remove the dead animal. If you are finding that you have an unusually high number of flies in your home it may be there is a dead animal in your chimney. We can remove animals living or dead.
Signs it might be time to call a chimney sweep:
Dark black soot on your fireplace damper
Your fires are not burning well and are very smoky
Visible thick creosote (soot) in your chimney lining
A smell like smoldering fire when the fireplace is not in use
You have burned more than a cord of wood
Sweeping a chimney can be a dirty job and you want to be sure it's done right. However, once we are finished you shouldn't be able to even tell we were there. Our Chimney Sweeps are true professionals and we are the only CSIA-certified chimney sweeping company in Stark County. We'll be honest and fair while getting the job done right.
If you would like to request chimney cleaning and/or duct cleaning services, or if you would like to schedule a free estimate, please fill out this form and we will get back to you within one business day.