Meet the Owners: Jim & Becky Ferguson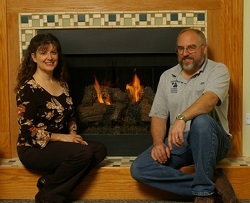 In 1983, fresh out of college and newly married Becky and I started Ferguson's Chimney Cleaning Inc. Soon after we were married we started our family. We have two grown daughters, Angela and Kelli. Both are married to fine young Godly men. We are so proud of them! A few years ago we became foster parents through Stark County. We had several short term placements of children in our home. In 2002 Sierra was born. She lived in our home for about a year before she went to live with her great aunt. When Sierra was 7 she came back to live with us and we were able to adopt her in July of 2013! That was an answer to years of prayer!
Becky is the love of my life! She is a very gifted woman! She enjoys all kinds of crafts and arts. She enyoys sewing, painting, pressed flower art, playning the piano, and is a fabulous cook! She is a wonderful wife, mother and now a proud grandmother! She is way to young and pretty to be a grandmother!
Becky helps me with phone calls and handles all the records and book keeping of our business. Her attention to details and her gifts of administration keeps our business growing strong!
We both are members at Grace Baptist church. Becky has a gift for hospitality, so we enjoy having friends and family over for meals, gatherings and games.
We owe the longevity of our marriage and the success of our family and business to our Lord and Savior, Jesus Christ!