Gas Buring Fireplace Inserts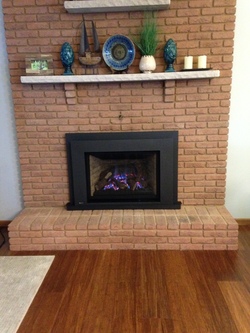 Avoid the hassle and mess of chopping wood and cleaning ashes by having a beautiful gas insert installed. A very safe, clean, and attractive way to heat your room or home. Burning gas instead of wood will not only keep your home cleaner, but also your neighborhood because it releases less smoke and pollutants into the environment. Easy to operate and more efficient than gas logs, gas inserts are a perfect solution for those who want to save money and don't want to bother with burning wood.
One of the best features of the unit shown here (Regency LRI6E) is that it is safe to operate without a blower and will still light and burn without electric. This eliminates the worries of heating during a power outage.
Selecting the proper gas insert for your home can be complicated. We have the knowledge and experience to properly evaluate your situation. So whether you buy from us or online, let us help you make an informed decision.
For a how to video for the Pro Flame remote click the link: https://www.youtube.com/watch?v=OrIoUq3KeO8
If you would like to request installation services for your stove, insert, or add on furnace, please fill out this form and we will get back to you within one business day.