Gas Log Installation & Repair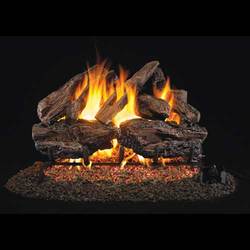 It's hard to argue with the convenience of gas logs. They often make fireplaces that haven't been used for years a regular part of a home's atmosphere.Whether you have a wood burning fireplace that you want to convert to gas logs, new home construction, or an older gas log installation that needs updated, we can help.We carry a wide array of gas log options and will work with you to find the right fit for your home.
Pictured here is the 24" charred red oak log set.
WHY WE DON'T RECOMMEND VENT-FREE LOGS, STOVES, OR FIREPLACES
Vent-free gas logs, stoves, and fireplaces are a very controversial subject. Before these appliances were given the name "vent-free" they were referred to as "unvented" or "room vented". Vent-free gas appliances do not have a chimney because the by-products from combustion are exhausted into the breathing space of the home instead of through the chimney to the outside of the home. A common sales pitch for vent-free products is that they are more efficient at heating your home than vented appliances because not as much heat is lost while venting out the exhaust. What they don't tell you is that typically in the owners manual it will say to open a nearby window while using the appliance. The disadvantage is that the indoor air quality is drastically reduced. Many homes with vent-free stoves, logs, and fireplaces end up getting darker colored walls and ceilings from the un-vented appliances venting into the home, sometimes becoming very obvious and unattractive. Vent-free products also create an uncomfortably humid indoor environment. A 40,000 BTU vent-free fireplace will exhaust a gallon of water every 2-1/2 hours, causing dampness, slimy walls, mildew, mold, and peeling wallpaper.
Vent-free gas stoves, logs, and fireplaces have been outlawed in Canada, Australia, and New Zealand. It is illegal to install vent-free appliances anywhere in the states of California and Montana. There is a state-wide ban in Minnesota prohibiting the installation of vent-free appliances in any home built after 1980. County wide bans exist in several states, including Arizona, Colorado, Kansas, Washington, Wyoming, Michigan, North and South Dakota, Navada, New Mexico, Alaska, Minnesota, Texas, New Hampshire, and Ohio. The county-wide ban in Ohio just so happens to be in Stark County. Austin, Texas and New York City have banned vent-free appliances on a city-wide basis.
Vent-free appliances are considered by many medical professionals to be a health hazard. There have been many reports of people becoming ill from vent-free appliances. Along with carbon monoxide and carbon dioxide, gas exhaust contains nitrogen dioxide, which combines with water to form nitric acid. Knowing all of this information, we can't recommend vent-free appliances to our customers in good conscience.
If you would like to request installation services for your stove, insert, or add on furnace, please fill out this form and we will get back to you within one business day.